The aim of the Sydney Taylor Book Award is to encourage the publication of outstanding books of Jewish content for children and teens that, in their view, exemplify the highest literary standards while authentically portraying the Jewish experience.
It is the hope of the sponsors, The Association of Jewish Libraries (AJL), that official recognition of such books will inspire authors, encourage publishers, inform parents and teachers, and intrigue young readers.
A major theme is the goal of educating readers about the Jewish experience, whilst seeking to engender pride in Jewish readers and building bridges to readers of other backgrounds.
2010 Winners

For Younger Readers


Wayland and Jorisch will receive the 2010 gold medal in the Sydney Taylor Book Award's Younger Readers Category for New Year at the Pier: A Rosh Hashanah Story, published by Dial Books for Young Readers, a division of Penguin Young Readers Group.  The Jewish New Year is a special time of year, with a change in seasons, symbolic foods and other traditions. It is also the time for introspection and the ritual of Tashlich, when sins are symbolically cast into a body of flowing water. Izzy thinks about things for which he is sorry. He "compares Tashlich to cleaning out his toy closet, an example of the wonderful way this story conveys to children, at their own level, a contemporary version of the healthy Jewish way we start fresh at the beginning of each new year," commented Susan Berson, a member of the Award Committee. Incoming Committee Chair Barbara Bietz noted that the "whimsical watercolor illustrations are a perfect pairing for the delightful prose."


For Older Readers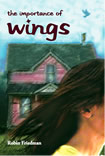 Friedman will receive the 2010 gold medal in the Sydney Taylor Book Award's Older Readers Category for The Importance of Wings published by Charlesbridge. Ah, the drama of being in eighth grade! There's the boy you have a crush on who likes someone else. There's getting dressed in gym class and being picked last for teams. There's your parents, who are so unlike Mike and Carol Brady and not even like Ma and Pa Ingalls. And there's your hair, that won't go in the popular feathered back style that everyone else is wearing. When an Israeli girl moves next door, Liat "not only shows Roxanne how to give her hair 'wings,' but she helps her 'wing' her way toward maturity and self-esteem," asserted Debbie Colodny, a member of the Award Committee. Another Award Committee member, Kathy Bloomfield, affirmed this praise: "With appealing and affecting writing, Ms. Friedman grabs the reader immediately and takes her on a journey of self-discovery, confidence building and empowerment that will leave her hoping for a sequel." Friedman's book about male bulimia, Nothing, was named an AJL Notable Book for Teen Readers last year.

For Teen Readers


Engle will receive the 2010 gold medal in the Sydney Taylor Book Award's Teen Readers Category for Tropical Secrets: Holocaust Refugees in Cuba, published by Henry Holt, an imprint of Macmillan Children's Publishing Group.  After Kristallnacht, many Jews tried to leave Germany, but other countries refused the refugees. Cuba agreed to take in some of these people, but at a price. The tension of this era is seen through the eyes of several of the people affected: Daniel, a thirteen-year-old German boy whose parents put him on a boat to "the Americas," hoping to save his life; Paloma, the daughter of a Cuban official who prefers a dovecote to her home; David, who escaped the pogroms of Russia, sells ice creams, and helps the new refugees; and Gordo, Paloma's father, who is profiting by charging exorbitant fees for visas to stay in Cuba. "The verse and the different perspectives make the history of Cuba during the Nazi era accessible while illustrating the complicated situations and the twists and turns of political interactions," noted Kathe Pinchuck, Committee Chair. Ms. Engle is known to readers for her Newbery-Honor book The Surrender Tree: Poems of Cuba's Struggle for Freedom, for which she also won the Pura Belpre Award.

<img src="http://www.assoc-amazon.com/s/noscript?tag=australianz-20" alt="" />



Honor Books & Notable Books



Eight Sydney Taylor Honor Books were named for 2010.  For Younger Readers, Honor Books are: Nachshon Who Was Afraid to Swim by Deborah Bodin Cohen with illustrations by Jago (Kar-Ben), Benjamin and the Silver Goblet by Jacqueline Jules with illustrations by Natascia Ugliano (Kar-Ben), Yankee at the Sederby Elka Weber with illustrations by Adam Gustavson (Tricycle Press) and You Never Heard of Sandy Koufax? by Jonah Winter with illustrations and an amazing lenticular cover by Andre Carrilho (Schwartz & Wade Books, an imprint of Random House).   Two works in translation were named Honor Books for Older Readers: Anne Frank: Her Life in Worlds and Pictures by Menno Metselaar and Ruud van der Rol (translated by Arnold J. Pomerans) (Roaring Brook Press/Flash Point, an imprint of Macmillan Children's Publishing Group) and A Faraway Islandby Annika Thor (translated by Linda Schenck) (Delacorte Books for Young Readers, an imprint of Random House). Lost, a historical novel by Jacqueline Davies (Marshall Cavendish) and Naomi's Song, a biblical fiction by Selma Kritzer Silverberg (JPS) were named Honor Books in the Teen Reader Category.

The JPS Illustrated Children's Bibleby Ellen Frankel with illustrations by Avi Katz (JPS) was named a Notable Book for All Ages. The Sydney Taylor Book Award Committee was very impressed with Ms. Frankel's retelling of biblical stories. "She succeeds in creating an age-appropriate interpretation of the most intriguing and familiar stories that allow families to gleen the essence of Jewish teachings, ethics, and history," commented Rita Soltan, Award Committee member. "Readability, faithfulness to 'idiomatic nuances of biblical Hebrew,' and softly rendered color illustrations are the main features of this compilation," noted Susan Berson, Award Committee member.

In addition to the medal-winners, the Award Committee designated twenty-two Notable Books of Jewish Content for 2010: eight in the Younger Readers Category, eight in the Older Readers Category, and six for Teens.  A complete list of Award, Honor, and Notable titles may be found at jewishlibraries.org/blog, and more information about the Sydney Taylor Book Award, may be found online at sydneytaylorbookaward.org. Information about the awards can also be found on the AJL Facebook page at facebook.com/jewishlibraries.
2009 Sydney Taylor Book Awards- 6th January 2009
GOLD MEDALISTS

The Sydney Taylor Book Award Winner for Younger Readers:

As Good As Anybody: Martin Luther King, Jr. and Abraham Joshua Heschel's Amazing March Toward Freedom by Richard Michelson with illustrations by Raul Colon (Alfred A. Knopf, an imprint of Random House Children's Books)


MARTIN LUTHER KING, Jr. and Abraham Joshua Heschel. Their names stand for the quest for justice and equality.

Martin grew up in a loving family in the American South, at a time when this country was plagued by racial discrimination. He aimed to put a stop to it. He became a minister like his daddy, and he preached and marched for his cause.

Abraham grew up in a loving family many years earlier, in a Europe that did not welcome Jews. He found a new home in America, where he became a respected rabbi like his father, carrying a message of peace and acceptance.

Here is the story of two icons for social justice, how they formed a remarkable friendship and turned their personal experiences of discrimination into a message of love and equality for all.

Review
Starred Review, Booklist, February 1, 2008:
""In this powerful, well-crafted story about a partnership between two great civil rights leaders,
Michelson shows how the fight for human rights affects everyone."

Starred Review, Kirkus Reviews, April 15, 2008:
"Gentle, powerful, and healing."

Review, The New York Times Book Review, July 13, 2008:
"A portrait of one of the more unusual partnerships of the civil rights movement."


About the Author
Richard Michelson is an award-winning poet and children's book author whose work has been praised by Elie Wiesel as "deeply moving." He lives in Northampton, Massachusetts.

Raul Colón is the recipient of both Gold and Silver Medals from the Society of Illustrators. He lives in New City, New York.



The Sydney Taylor Book Award Winner for Older Readers:

Brooklyn Bridge by Karen Hesse (Feiwel & Friends, an imprint of Macmillan)




Karen Hesse has achieved many honors for her more than twenty books over the course of her award-winning career: the Newbery Medal, the Scott O'Dell Historical Fiction Award, the MacArthur Fellowship "Genius" Award, and the Christopher Medal. Her novels burn with intensity, and keenly felt, deeply researched, and are memorable for their imagination and intelligence.

So it is with great pride and excitement that we present Karen Hesse's first novel in over five years: Brooklyn Bridge.

It's the summer of 1903 in Brooklyn and all fourteen-year-old Joseph Michtom wants is to experience the thrill, the grandeur, and the electricity of the new amusement park at Coney Island. But that doesn't seem likely. Ever since his parents—Russian immigrants—invented the stuffed Teddy Bear five months ago, Joseph's life has turned upside down. No longer do the Michtom's gather family and friends around the kitchen table to talk. No longer is Joseph at leisure to play stickball with the guys. Now, Joseph works. And complains. And falls in love. And argues with Mama and Papa. And falls out of love. And hopes. Joseph hopes he'll see Coney Island soon. He hopes that everything will turn right-side up again. He hopes his luck hasn't run out—because you never know.

            Through all the warmth, the sadness, the frustration, and the laughter of one big, colorful family, Newbery Medalist Karen Hesse builds a stunning story of the lucky, the unlucky, and those in between, and reminds us that our lives—all our lives—are fragile, precious, and connected.

Review


Praise for Brooklyn Bridge: "This well-told tale -- about a Jewish immigrant family in New York in the early 1900s -- is fascinating and full of suspense."--The Washington Post "Alternating with this story line is a parallel narrative devoted to abandoned children who forge a life for themselves under the shelter of the Brooklyn Bridge. Readers will have a hard time putting down this compelling story."--School Library Journal "Inspired by facts surrounding the inventors of the teddy bear, Newbery Medalist Hesse (Out of the Dust) applies her gift for narrative voice to this memorable story set in 1903 Brooklyn."--Publishers Weekly, starred review "The narrative includes tightly interwoven elements of multiple genres—adventure, romance, comedy, ghost story, and family drama—without ever compromising the authenticity of the plot or the characters."--Horn Book "Rooted in the Jewish immigrant experience in early-twentieth-century New York City, this story weaves together one boy's immediate personal narrative with a community's historical struggles….the plot reveals intricate connections, up to the very last chapter, that will make readers return to the beginning of this gripping story and see everything in a new way."--Booklist  "It's such a relief to be able to count on an author time and time

again."—Elizabeth Bird, School Library Journal "In this tale of Dickensian contrasts in kindness and cruelty, Brooklyn comes alive with the details of time and place, but it is the shadow of pain and transcendence cast symbolically by the bridge that haunts and compels. Another work of enduring excellence from Hesse."--Kirkus, starred review  Praise for Karen Hesse: "This intimate novel, written in stanza form, poetically conveys the heat, dust and wind of Oklahoma. With each meticulously arranged entry Hesse paints a vivid picture of her heroine's emotions."—Publishers Weekly, Starred Review for Out of the Dust
"What Copeland created with music, and Hopper created with paint, Hesse deftly and unerringly creates with words: the iconography of Americana, carefully researched, beautifully written, and profoundly honest."—Kirkus Reviews, Starred Review for Witness
"Deep, literary, and soulful, Ms. Hesse once again holds us in her spell as she reconstructs the past at an intense time in United States history . . . The tapestry of plot and subplot is woven with brilliant craftsmanship."—Children's Literature for A Light in the Storm: The Civil War Diary of Amelia Martin
"Sparkling with humor, poignancy and adventure . . . Hesse's impeccable research buttresses the narrative with a wealth of detail . . . an author's note and extensive glossary round out this compelling volume."—Publishers Weekly, Starred Review for Stowaway



The Sydney Taylor Book Award Winner for Teen Readers:

A Bottle in the Gaza Sea by Valerie Zenatti (Bloomsbury)

Bottle in the Gaza Sea should be THE novel for teens on the Israeli/Palestinian conflict. When teen Tal Levine witnesses a bombing in Tel Aviv, she becomes despondent. Like so many people, she wants Israel and Palestine to live in peace.

One day she puts her hopes into a letter, places the letter into a bottle, and gives it to her brother, asking him to toss it into the Gaza Sea. A young man in Gaza finds the bottle, and responds. He is critical, angry, annoyed at first, but eventually they both participate in a friendship that ultimately opens their eyes.

SILVER MEDALISTS

Sydney Taylor Honor Award Winners for Younger Readers:
Engineer Ari and the Rosh Hashanah Ride
by Deborah Bodin Cohen with illustrations by Shahar Kober (Kar-Ben, an imprint of Lerner)
Sarah Laughs
by Jacqueline Jules with illustrations by Natascia Ugliano (Kar-Ben, an imprint of Lerner)
A is for Abraham: A Jewish Family Alphabet
by Richard Michelson with illustrations by Ron Mazellan (Sleeping Bear Press, an imprint of Gale)
Naming Liberty
by Jane Yolen with paintings by Jim Burke (Philomel Books, an imprint of Penguin)
Sydney Taylor Honor Award Winners for Older Readers:
Memories of Babi
by Aranka Siegal (Farrar Straus and Giroux)
Sydney Taylor Honor Award Winner for Teen Readers:
Freefall
by Anna Levine (Greenwillow Books, an imprint of HarperCollins Publishers)
NOTABLE BOOKS OF JEWISH CONTENT


Notable Books for Younger Readers:

Mysterious Guests: A Sukkot Story by Eric Kimmel with illustrations by Katya Krenina (Holiday House)

Jodie's Hanukkah Dig by Anna Levine with illustrations by Knesia Topaz (Kar-Ben, an imprint of Lerner)

Harvest of Light by Allison Ofanansky with photographs by Eliyahu Alpern (Kar-Ben, an imprint of Lerner)

Sammy Spider's First Shavuot by Sylvia Rouss with illustrations by Katherine Janus Kahn (Kar-Ben, an imprint of Lerner)

My Tzitzis Book by Elisheva Schreiber with clay creations by Batsheva Ravad (Feldheim)

Hanukkah Haiku by Harriet Ziefert with illustrations by Karla Gudeon (Blue Apple Books)

Notable Books for Older Readers:

The Boy Who Dared: A Novel Based on the True Story of a Hitler Youth by Susan Campbell Bartoletti (Scholastic Press)

The Walls of Cartegena by Julia Durango with illustrations by Tom Pohrt (Simon & Schuster Books for Young Readers)

Capturing the Moon by Rabbi Edward M. Feinstein (Behrman House)

Kristallnacht, the Night of Broken Glass: Igniting the Nazi War Against Jews by Stephanie Fitzgerald (Compass Point Books)

My Chocolate Year by Charlotte Herman with illustrations by LeUyen Pham (Simon & Schuster Books for Young Readers)

The Mozart Question by Michael Morpurgo with illustrations by Michael Forman (Candlewick Press)
Keeping Israel Safe: Serving in the Israel Defense Forces by Barbara Sofer
(Kar-Ben, an imprint of Lerner)

Boys of Steel: The Creators of Superman by Marc Tyler Nobleman with illustrations by Ross McDonald (Alfred A. Knopf, an imprint of Random House Children's Books)

The Bat-Chen Diaries: Selected Writings by Bat-Chen Shahak (Kar-Ben, an imprint of Lerner)

Honey Cake by Joan Betty Stuchner with illustrations by Cynthia Nugent (Random House, a Stepping Stone Book)

Notable Books for Teens:

Nothing by Robin Friedman (Flux)

Rutka's Notebook: A Voice from the Holocaust by Rutka Laskier (Time, Inc. Home Entertainment)

Gravity by Leanne Lieberman (Orca Book Publishers)

The Freak by Carol Matas (Key Porter Books)

Notable Books for All Ages:

Genesis—the Book with Seventy Faces: A Guide for the Family by Esther Takac with illustrations by Anna Pignataro (Pitspopany Press)

Celebrating with Jewish Crafts by Rebecca Edid Ruzansky with photographs by Roberto Zeballos-Peralta (self-published)
Yiddish Wisdom Series Illustrator Wins Sydney Taylor Award for 2008 as It Celebrates 40th Anniversary Year
Illustrator Kristina Swarner's creative partnership with author and Jewish educator Sarah Gershman has been rewarded by winning the 2008 Sydney Taylor Book Award for Younger Readers. Known for her work as illustrator of the Yiddish Wisdom Series
of books, Ms. Swarner and Ms. Gershman won for their adaption of the Kriat Sh'ma al haMitah for little ones, The Bedtime Sh'ma
.
The Award, which celebrates its 40th anniverasry this year, is given by the the Association of Jewish Libraries for new books for children and teens that exemplify the highest literary standards while authentically portraying the Jewish experience.
The Bedtime Sh'ma, one of the three Gold Medal Winners , is a collection of psalms, poems and prayers that focus on the themes of protection and preparing for sleep. This book is an interpretation of excerpts of the actual liturgy. The full test of those excerpts is included in Hebrew and English in the back of the book.
Sarah Gershman (right)must be considering all future options given the recognition of this, her first children's book. As I understand it she is currently the Jewish Education Associate for the Washington DC JCC, but, it is possibly through her work as a JCC music teacher for toddlers and preschoolers, that she found the inspiration for the book. With a Masters in Judaic Studies from the Jewish Theological Seminary, she is certainly well qualified to interpret traditional liturgy. Hopefully the publicity surrounding the award will lift the book up the sales ranking from it's current 74,010 in Amazon sales (8th Jan, 2007).
The book is accompanied by a CD in which, according to the awards press release, "The soothing and soulful voice of Rabbi Julia Adelman......will lull the listener to sleep with sweet dreams,". All of us with small children have to be lulled by that.
Dybbuk Tells the Story
A book featuring what is generally regarded as a malicious possessing spirit, believed, in Kaballah and European Jewish Folk tradition to be the dislocated soul of a dead person, seems an unusually eclectic subject matter for the winner of the Gold in the Older Readers Award. But, in the hands of the accomplished Sid Fleischem, (below left) a Dybbuk , serves as a guide to illustrate the fate of countless Jewish children during the Holocaust when it takes control of a young ventriloquist in The Entertainer and the Dybbuk. Far
from being malicious, the Dyybuk is the spirit of a 12-year old Jewish boy, murdered by the Nazis who wants to set the record stright via the second-rate ventriloquist. Despite the weightiness of the subject matter, the book is not without its humor according to fifth grade teacher and blogger Megan Germano.
The way Fleischem presents this seriously sensitive information is nothing short of amazing. The story is never boring and has a great humor to it.
A never endingly crucial subject tackled, it seems, with imagination and verve.
It seems no coincidence that the book takes place in an 'entertainment' setting as apparently Sid Fleischman began his professional life in vaudeville according to his autobiography, The Abracadabra Kid: A Writer's Life
. Important that fundamental information is presented in different formats to ensure that history is not lost. Not easy even for someone who describes himself as an '.....author, magician, screenwriter, playwright and lyricist..'.
Mr F. was previously awarded the Newbery Medal for The Whipping Boy
back in 1986, and his stories have been translated into the languages of nineteen countries. He has written the biography Escape!: The Story of the Great Houdini
, and his novels include The Giant Rat of Sumatra: or Pirates Galore
; Disappearing Act
; Bo & Mzzz Mad
; Bandit's Moon
; The 13th Floor
: The 13th Floor
; and Jim Ugly
.
It's obviously in the genes (or is it socialization?) as one of his three children,his son Paul Fleischman, also won a Newbery Honor Medal for Graven Images as well as a number of ALA Awards.
Busy man, Albert Sid Fleischman - with a bo'ys spirit I feel.
The book won against some strong competition, especially Honor winner Holocaust
, by Angela Gluck Wood which certainly deserves a wider audience.
Paradise Trip Provides Back Drop for Coming of Age Story (It always did I suppose)
The winner of Gold in the Sydney Taylor Award for Teen Readers, Sonia Levitin's (below) Strange Relations,
tells the
story of a summer in paradise that develops into an examination of life, the universe and everything from the perspective of the main character Marne, as her vacation proves somewhat different than anticipated. A novel that seems to reflect one of the core aims of the Sydney Taylor judging panel as it explores the impact of a different cultural experience by the main character of contemporary life which, in turn, stimulates an examination of the very heart of faith, identity, and family ties. Wow. Sounds like a journey in its own right (a bit like that last sentence).
According to Rachael Kamin, Chair of the Awards Committee;
"Levitin skillfully writes from the perspective of a contemporary teenager and realistically deals with issues such as drinking, drugs,sexuality, and peer pressure,"
A coming of age novel with a twist by the sounds.
Another of Levitin's books, The Goodness Gene
, has also been nominated as one of the twenty finalists for the Georgia Peach Book Award for Teen Readers in 2007-2008. Some writers get better as time goes on whilst others of us can't remember whether we have started or finished the novel yet.
Sonia Levitin is certainly no slouch in the authoring department and has penned over 40 books during her days at the keyboard. Her 1998 work, The Singing Mountain
, was a previous Sydney Taylor Honor Winner, this time she has landed the big one. Ms. Levitin is also a social activist supporting the North American Conference of Ethiopian Jewry (NACOEJ) and Beit Issie Shaprio, an institute for developmentally disabled children in Israel as well as the American Anti-Slavery group. Oh for half the energy of these so alive people. Good stuff.
Amongst the notables I like the sound of How to Ruin My Teenage Life
by Simone Elkeles and Cures for Heartbreak
by Margo Rabb. The titles alone will resonate any of us who have had dealings with teenagers or have been one ourself (that covers it).
The winners will receive their awards at the Association of Jewish Libraries convention in Cleveland,Ohio June, 2008, at a special ceremony celebrating the 40th anniversary of the award.
Well done to all. Sorry that time, space and resources do not permit giving all the authors and illustrators the coverage that they deserve- producing a book is a labor of love that can be both sweet and sour. Acknowledged. The full list of winners is:
Winner: The Sydney Taylor Book Award Winner for Younger Readers:
The Bedtime Sh'ma
by Sarah Gershman with illustrations by Kristina Swarner
(EKS Publishing)
You shall say these words...when you lie down and when you rise. This beautiful adaptation of the Kriat Sh'ma al haMitah, the Bedtime Sh'ma, invokes traditional nighttime blessings of peace and protection and recalls the wonder of our waking hours.

Winner: The Sydney Taylor Book Award Winner for Older Readers:
The Entertainer and the Dybbuk
by Sid Fleischman
(HarperCollins Children's Books)
One night The Great Freddie, a young ventriloquist, is possessed by a dybbuk.
A what?
A Jewish spirit. A scrappy demon who glows as if spray-painted by moonlight.
The dybbuk is revealed to be the ghost of a twelve-year-old boy named Avrom Amos, a victim of the Nazis during World War II. In a plucky scheme to seek revenge, he commandeers The Great Freddie's stage act and entraps the entertainer in the postwar ashes of Germany. Behind the footlights, the dybbuk lights up the terrible fate of a million and a half Jewish children, including Avrom himself.
What tricks does the dybbuk have up his ghostly sleeve? Prepare to be astonished. . .

Winner: The Sydney Taylor Book Award Winner for Teen Readers:
Strange Relations
by Sonia Levitin
(Knopf, an imprint of Random House Children's Books)
A summer in paradise. That's all Marne wants. That's all she can think of when she asks her parents permission to spend the summer in Hawaii with Aunt Carole and her family.

But Marne quickly realizes her visit isn't going to be just about learning to surf and morning runs along the beach, despite the cute surfer boy she keeps bumping into. For one thing, Aunt Carole isn't even Aunt Carole anymore—she's Aunt Chaya, married to a Chasidic rabbi and deeply rooted in her religious community. Nothing could be more foreign to Marne, and fitting into this new culture—and house full of kids—is a challenge. But as she settles into her newfound family's daily routine, she begins to think about spirituality, identity, and finding a place in the world in a way she never has before.

This rich novel is a window into a different life and gets to the very heart of faith, identity, and family ties.
Sydney Taylor Honor Award Winners for Younger Readers:
The Castle on Hester Street
by Linda Heller with illustrations by Boris Kulikov
(Simon & Schuster)
A flying goat, buttons the size of sleds, and a castle on Hester Street are some of the widely imaginative stories Julie's grandpa tells her about his journey from Russia to New York many years ago. But Grandma's no-nonsense memories are far different from Grandpa's tall tales.
This classic story, which reveals the immigrant experience with wit and warmth, won the Sydney Taylor Book Award when it was originally published with Linda Heller's own illustrations. Now, on its twenty-fifth anniversary, The Castle on Hester Street is given new life with Boris Kulikov's vibrant paintings.
Letter on the Wind: A Chanukah Tale
by Sarah Marwil Lamstein with illustrations by Neil Waldman
(Boyds Mills Press)
Ages 4-8 will find here a compelling folk story of a year without Chanukah, and a poor man who decides to light the menorahs in search of remembering the miracle of the season. He asks a local scribe to write a letter to god and prays for oil to light the poor town's menorahs - and an unexpected result lends to suspicion Hayim might be a thief. This fine retelling of a Jewish folk story is an excellent addition for any Jewish library.
Light
by Jane Breskin Zalben
(Dutton Children's Books, an imprint of Penguin Young Readers Group)
In the beginning there was emptiness, like a blank canvas. Then, in a swirl of motion, the Creator made the world. The Creator wanted to finish everything with a special kind of light—a light so powerful it had to be stored away from sight. When the Creator tried to open the jar of light, it shattered, and sparks of light flew everywhere. With flowing paintings and intricate collages made with unusual and varied materials, Jane Breskin Zalben brings to life this timeless legend about why people were created: to find the light and repair the world.
Sydney Taylor Honor Award Winners for Older Readers:
The Secret of Priest's Grotto: A Holocaust Survival Story (Holocaust)
by Peter Lane Taylor and Christos Nicola
(Kar-Ben)
During World War II, as the Nazis closed in, several Jewish families disappeared into the underground labyrinths of Western Ukraine. They stayed hidden for nearly a year, facing danger of discovery, malnutrition, and the disorientation of sensory deprivation. At the end of the war, they emerged triumphant due to ingenuity and family loyalty. Now Taylor, an American writer, filmmaker, and caving enthusiast, follows Nicola's lead to document this saga of survival.

Holocaust
: The Events and Their Impact on Real People by Angela Gluck Wood
with consulting by Dan Stone
(DK Publishing in association with USC Shoah Foundation Institute for Visual History and Education)
Publishers Weekly, July 9, 2007
Starred Review "...a sobering and visually compelling work of history."

Publishers Weekly (STARRED review)
"Searing testimony...visually compelling work of history...the visual sensitivity and expert pacing serves this vital subject very well."

School Library Journal
"...the photographs and quotes bring a real immediacy to the history...each entry turns a statistic into a person."

Booklist
"This ambitious pictorial overview will horrify, sadden, and educate a wide range of readers."

The Winston-Salem Journal
"...the images and stories will twist your soul."

Dallas Morning News, Sept 29, 2007
"...a panoramic volume truly beautiful despite the devastation that inspired it."
back to top
Sydney Taylor Honor Award Winner for Teen Readers:
Let Sleeping Dogs Lie
by Mirjam Pressler, translated
Notable Books for Younger Readers:
My Cousin Tamar Lives in Israel by Michelle Shapiro Abraham with illustrations by Ann Koffsky
(URJ Press)
A Nickel, A Trolley, A Treasure House
by Sharon Reiss Baker with illustrations by Beth Peck
(Viking Children's Books, an imprint of Penguin Young Readers Group)
Shuli and Me
by Joan Benjamin-Farren (Black Jasmine)
Papa Jethro by Deborah Bodin Cohen with illustrations by Jane Dippold (Kar-Ben)
Hanukkah Moon (Hanukkah)
by Deborah da Costa with illustrations by Gosia Mosz (Kar-Ben)

Holidays Around the World: Celebrate Passover: with Matzah, Maror, and Memories (Holidays Around the World)
by Deborah Heiligman (National Geographic)
Holidays Around the World: Celebrate Rosh Hashanah and Yom Kippur: With Honey, Prayers, and the Shofar (Holidays Around the World)
by Deborah Heiligman
(National Geographic)

Five Little Gefiltes
by Dave Horowitz
(G.P. Putnam's Sons, an imprint of Penguin Young Readers Group)
Mendel's Accordion (Kar-Ben Favorites)
by Heidi Smith Hyde with illustrations by Johanna Van Der Sterre (Kar-Ben)

Abraham's Search for God (Bible Series)
by Jacqueline Jules with illustrations by Natascia Ugliano (Kar-Ben)

A Mezuzah on the Door (Jewish Identity)
by Amy Meltzer with illustrations by Janice Fried (Kar-Ben)
Ten Good Rules: A Counting Book
by Susan Remick Topek with photographs by Tod Cohen (Kar-Ben)
back to top
Notable Books for Older Readers:
Out of Line: Growing Up Soviet
by Tina Grimberg (Tundra)
A Picture for Marc (A Stepping Stone Book(TM))
by Eric Kimmel with illustrations by Matthew Trueman
(Random House Children's Books)

World History Biographies: Anne Frank: The Young Writer Who Told the World Her Story (NG World History Biographies)
by Ann Kramer (National Geographic)
The Silver Cup
by Constance Leeds
(Viking Children's Books, an imprint of Penguin Young Readers Group)

Passover Around the World (Passover)
by Tami Lehman-Wilzig with illustrations by Elizabeth Wolf (Kar-Ben)
The Whirlwind
by Carol Matas (Orca)

Penina Levine Is a Hard-boiled Egg
by Rebecca O'Connell with illustrations by Majella Lue Sue(Roaring Brook Press)
All-star Season (Kar-Ben for Older Readers)
by Tovah Yavin (Kar-Ben)

How to Ruin My Teenage Life
by Simone Elkeles (Flux)
Cures for Heartbreak
by Margo Rabb (Delacorte Press, an imprint of Random House Children's Books)

Hidden on the Mountain: Stories of Children Sheltered from the Nazis in Le Chambon

by Karen Gray Ruelle and Deborah Durland Desaix (Holiday House)
Homeland: The Illustrated History of the State of Israel

by Marv Wolfman, Mario Ruiz and William J. Rubin (Nachshon Press)